This shop has been compensated by Collective Bias, Inc. and its advertiser. All opinions are mine alone. #MerrySpritzmas #CollectiveBias
I'm SUPER here for a girl's trip! (See above for hard evidence.) I think even just a weekend getaway is necessary at least once a year, but my favorite time to do a trip is during the holidays. I love the break from reality, some quality girl time, and holiday celebration and cheer is always fun! Since I'm a gifter- I love to show my love through gifts or acts of kindness, I wanted to share a fun idea to tie in gifting with a girl's trip!
This blog is in collaboration with Poo~Pourri, which is SO super fun. Their brand has always been one I've watched because they take a subject that can be hard to talk about and turns it into a light, hilarious version of truth. If you haven't picked up on it by now, I'm a bit of a sarcastic person, I can have a bit of an off sense of humor, so if you know me, then you know I think this collaboration is the SH*T!
Read on below to see the items I would include in a fun, travel gift basket for a holiday girl's trip! Of course, the star is the Poo~Pourri, but the other little items can be fun, practical, and even yummy! Think of things you would want to pamper yourself after a night out with your friends, or what you would need when you are cozied up in your hotel room having girl chat and include all those little luxuries in your gift basket to your friends.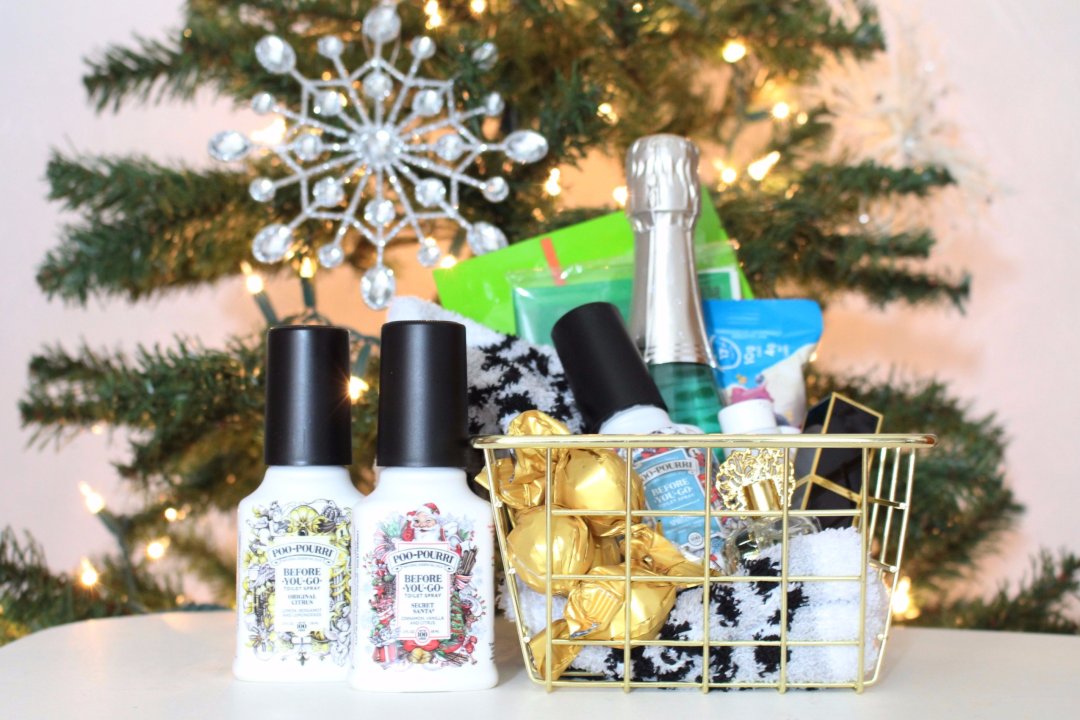 Hover over the picture above to shop all of the Poo~Pourri scents I'm loving right now!
C'mon! This is a perfect gift. Imagine, you are out on the town. Your single girlfriend snags a handsome gentleman to bring back to her hotel room to…watch a movie. She feels the sushi coming back to haunt her from your fancy dinner a few hours prior. She can slip off to the bathroom, spray her Poo~Pourri, and rest assured knowing she isn't going to stink her gentleman caller out! It's the perfect getaway. We buy Poo~Pourri because it's funny, but we use it because IT WORKS! That's what makes it an awesome gift basket gift for girl's trip.
Now, I absolutely love the Original Citrus scent, but their holiday scents are pretty great! I love the good vanilla scent, and that's why I decided to pick up Merry Spritzmas®, as it's a Peppermint, Vanilla, and Citrus scent! I bought it as a gift, and now I have it on the back of my toilet for obvious use! I am thinking I may need to stock up so I can have these Christmas-y scents year-round!
Using Poo~Pourri is a breeze. It's way easier than spraying that nasty air cover-up you're used to using! Before you go, you spritz the water in the toilet bowel and pure blend of NATURAL ESSENTIAL OILS creates a film on the surface. The protective barrier traps odor under the surface, before it ever begins! All you are going to smell is the perfect Merry Spritzmas® scent that will be sure to tickle your fanny…er…fancy! FLUSH YEAH!
I have a special discount code for you! Just click HERE for 20% off your next purchase.
PERFUME
Now you have their bathroom smelling good, you might as well get them a little gift to keep them smelling good as well. Ladies love perfume, so you can easily interest your gal pals with a new scent for them to try out over the holiday!
FACE MASK
We all love a moment to pamper ourselves, and a face mask is a mini spa experience for 1/10 the price! Grab a sheet mask for the easiest amount of convenience for your friend.
SHAMPOO/CONDITIONER
Hotel shampoo can be lack-luster, but packing shampoo and conditioner can be cumbersome. Pack some shampoo minis that you approve of for your lush locks to help a sister out!
SNACKS/A BOOZY TREAT
After a fun night out, everyone comes back to their room just ready to be ravenous. Let's face it, you're going to order a pizza, but you need a snack to hold you over until you get your delivery! I love to include a pack of popcorn, some chocolates, a protein bar, and a little bottle of bubbly!
COZY SOCKS
The ultimate in comfort is a pair of big, fuzzy, cozy socks. I think this leopard print pair is so cute and super warm. All your girlfriends will be tickled pink to get a pair of these beauties!
Doesn't this sound like a relaxing vacation in a basket? I think this is perfect for you to get your girls for a trip to remind them that indeed, their sh*t DOESN'T have to stink thanks to
Poo~Pourri
. If you want to grab a bottle to make your girls a basket (or to stock up your own bathroom or travel bag,) Don't forget to click
HERE
to shop with your 20% off discount at poopourri.com!